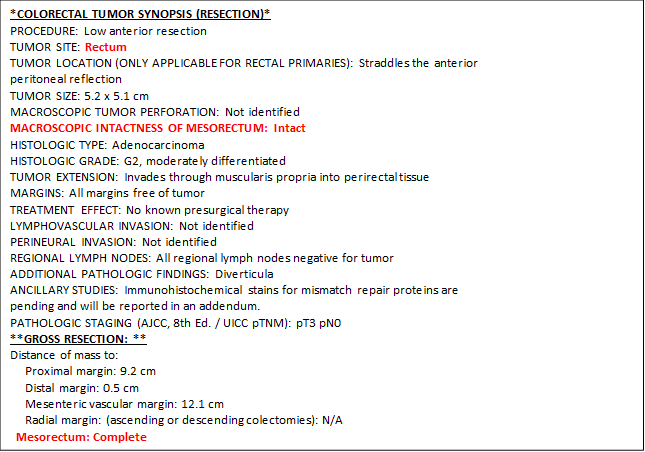 Scenario: 2023 Rectal primary
Question: How will you code Macroscopic Evaluation of the Mesorectum?
00 Patient did not receive TME
10 Incomplete TME
20 Nearly Complete
30 Complete TME
40 TME performed not specified on pathology report as incomplete, nearly complete, or complete TME performed but pathology report not available Physician statement that TME performed, no mention of incomplete, nearly complete or complete status
99 UNKNOWN if TME performed
BLANK Site not rectum (C20.9)
Answer & Rationale: 30 Complete TME
STORE Manual 2023
Macroscopic Evaluation of the Mesorectum required Status 2022+
This data item records whether a Total Mesorectal Excision (TME) was performed and the macroscopic evaluation of the completeness of the excision. Collect on all cases after implementation date regardless of date of diagnosis.
Information for this data item comes from the pathology report only
Codes 10, 20, and 30 must be based on pathology report
TIP: For some reason, this facility did not record Macroscopic Evaluation of Mesorectum (required for rectal cancers) in the synopsis. However, it was noted in the Gross Resection as Complete. Be sure to read the entire path report, not just the final diagnosis or synopsis. You should also bring this to the attention of the Pathology Department & Cancer Committee to make sure pathology is using the most current version of the CAP Approved Protocols and all data items are included.