On-Demand Coding Webinar March 2023 - Autoimmune Disorders and Congenital Malformations
Join our experts as we explore March 2023 - Coding On-Demand Webinar - Autoimmune Disorders and Congenital Malformations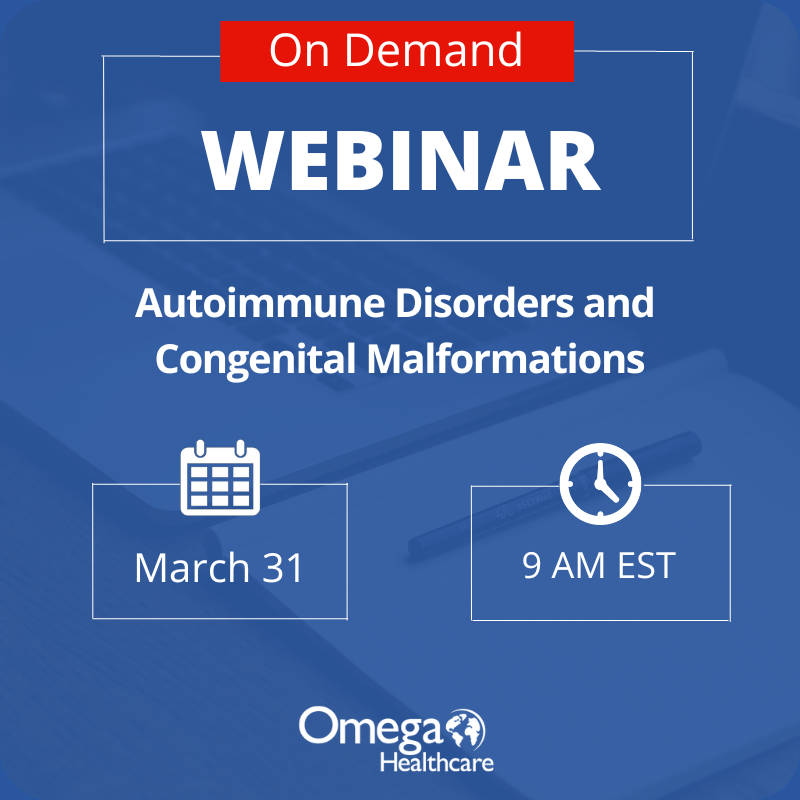 Autoimmune Disorders & Congenital Malformations are perplexing and often unspoken conditions that affect young and old. Join the Omega HealthCare Compliance Team as we explore various Autoimmune and Congenital abnormalities and the codes that define these conditions. We will focus on these disorders by defining the disease process and provide corresponding case scenarios for accurate coding/billing. The content will provide education that is valuable to coders and auditors in the facility and physician arena.
Our webinar goal is to assist healthcare professionals understand and interpret provider documentation to accurately code Autoimmune Disorders & Congenital Disorders.
Highlighting Autoimmune Disorders such as:
Blood Related
Endocrine
Musculoskeletal
Nervous System
Skin
Focusing on Congenital Heart Malformations such as:
Atrial Septal Defects
Transposition of Great Vessels
Hypoplastic Heart Syndrome
Tetralogy of Fallot
Discussing other Congenital Craniofacial Malformations:
Cleft Lip/Cleft Palate
Craniosynostosis
Congenital Hemangioma
Treacher-Collins Syndrome
Webinar Speaker
Kitty Dugre, CCS, CDIP  –  Omega Healthcare Educator/Auditor

Jody Meece, RHIA, CCS –  Omega Healthcare Educator/Auditor
Please click here to download an important note on the webinar.