On-Demand: Spinal Fusion-Outpatient CPT Coding June Coding Webinar
Join our experts as we explore Spinal Fusion-Outpatient CPT Coding Webinar which was telecasted on 28th & 29th June 2022.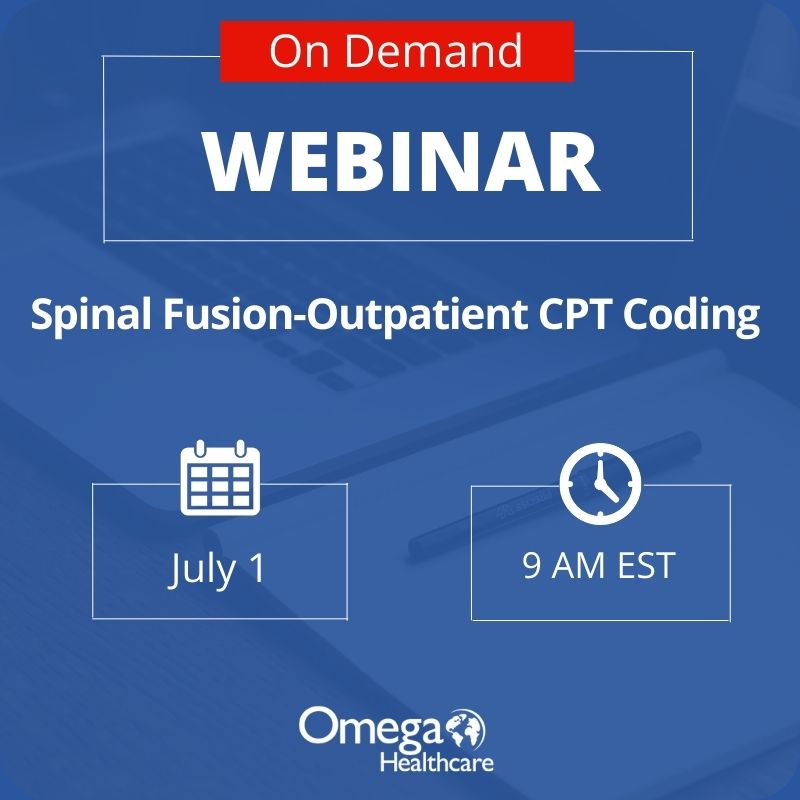 Join the Omega Educators as we explore Spinal fusions in the outpatient arena. The discussion will include the anatomy of the spine, diseases/anomalies of the spine, CPT code logic of surgical fusions, and tips from CPT Assistant. This webinar will have several case scenarios to help facilitate your understanding in accurately assigning CPT procedure codes on spinal fusion cases.  This content will provide education that is valuable to coders and auditors in the outpatient and physician setting.
Webinar goal is to assist outpatient and physician healthcare professionals in developing a comfort level when assigning the correct CPT codes for spinal fusions.
This webinar will provide coding discussion specific to: 
CPT codes specific to spinal fusions
Components of a surgical spinal fusion
Surgical approaches for a spinal fusion
Interbody fusions
Segmental Instrumentation
Non-segmental Instrumentation
Cages
Bone Grafts
Bone Substitutes
Webinar Speaker
Kitty Dugre, CCS, CDIP  –  Omega Healthcare Educator/Auditor
Jody Meece, RHIA, CCS –  Omega Healthcare Educator/Auditor
Please click here to download an important note on the webinar.