On-Demand Webinar - Jan 2023 - What's New for Outpatient CPT Codes in 2023
Join our experts as we explore Jan 2023 - What's New for Outpatient CPT Codes in 2023 On Demand which was telecasted on 24th & 25th Jan 2023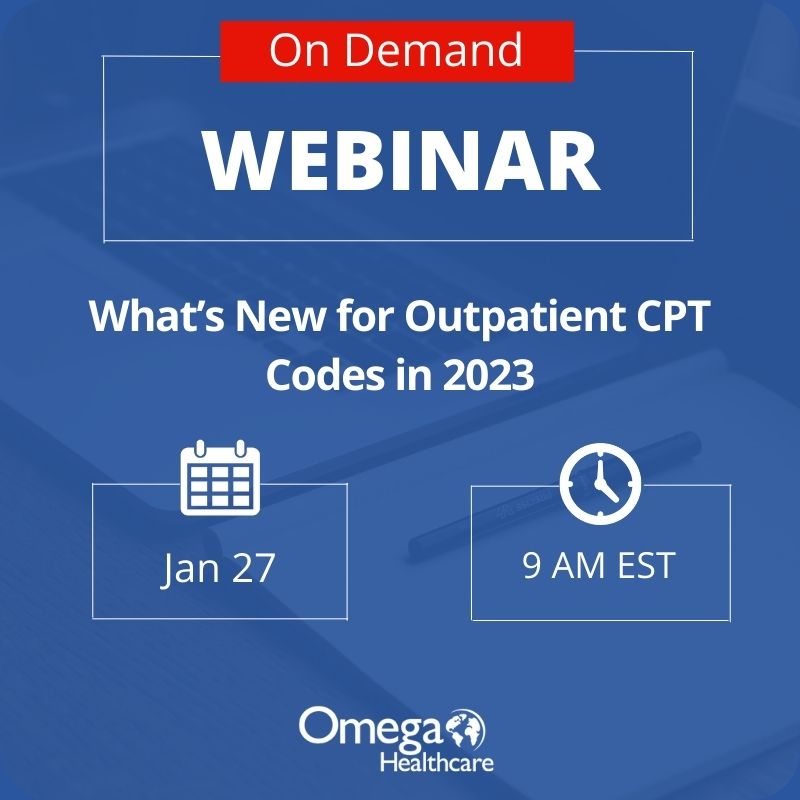 Join the Omega Healthcare Compliance Team as we review the 2023 CPT code changes.  We will provide a glossary of symbols specific to CPT codes, an overview of the three CPT categories and highlight guideline changes specific to each section to include revisions, deletions, and additions to CPT codes.  Changes specific to Evaluation & Management, Integumentary, Musculoskeletal, Respiratory, Cardiovascular, Digestive, Urinary, Male Genital, Nervous, Eye & Ocular Adnexa, and Auditory Systems.   We will also review changes in Radiology, Pathology/Lab, Medicine, Category III codes and Modifiers.  This content is essential for outpatient facility and inpatient/outpatient physician coders and auditors.
Our webinar goal is to assist outpatient and physician healthcare professionals understand and interpret coding guidelines for accurate coding with the new CPT 2023 codes highlighting:
Summary CPT codes
Categories of CPT
Section Review
New Codes
Revised Codes
Deleted Codes
Guideline Summary & Rationale
Illustrations
Modifiers
Webinar Speaker
Kitty Dugre, CCS, CDIP  –  Omega Healthcare Educator/Auditor

Jody Meece, RHIA, CCS –  Omega Healthcare Educator/Auditor
Please click here to download an important note on the webinar.