On Demand Webinar: August 2022 Neoplasms
Join our experts as we explore Neoplasms On Demand which was telecasted on 23rd & 24th Aug 2022.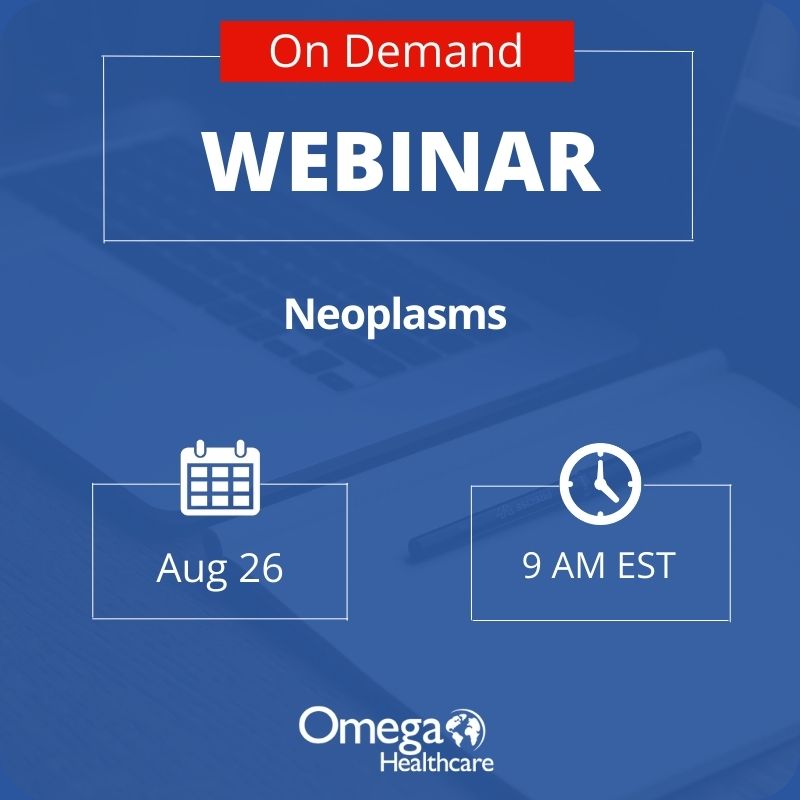 Join the Omega Education Team as we explore diagnostic coding of Neoplasms.  We will provide an overview to include types of neoplasms, general & chapter specific guidelines and proper coding & sequencing of neoplasms.  The discussion is designed to help facilitate understanding of specific coding guidelines for neoplasms with examples. The content will provide education that is valuable to coders and auditors in the facility and physician arena.  Webinar goal is to assist inpatient, outpatient and physician healthcare professionals understand and interpret coding guidelines for accurate diagnostic coding of Neoplasms.    
This webinar will provide coding discussion specific to:
Neoplasm Coding Axis

Types of Neoplasms

Primary vs. Secondary Neoplasms

Chapter 2 Specific Coding Guidelines of Neoplasms

Encounters involving chemotherapy, immunotherapy, and radiation therapy

Signs/Symptoms associated with Neoplasms

Neoplasm Related pain

Sequencing of Neoplasms

History of Neoplasms

Hematopoietic and Lymphatic Neoplasms

Neuroendocrine Tumors
Webinar Speaker
Kitty Dugre, CCS, CDIP  –  Omega Healthcare Educator/Auditor
Jody Meece, RHIA, CCS –  Omega Healthcare Educator/Auditor
Please click here to download an important note on the webinar.