On-Demand April 2022 – Code Updates & COVID-19 Review
Please note that we will soon have an "on-demand" session available, the registrations will open soon after our live sessions conclude.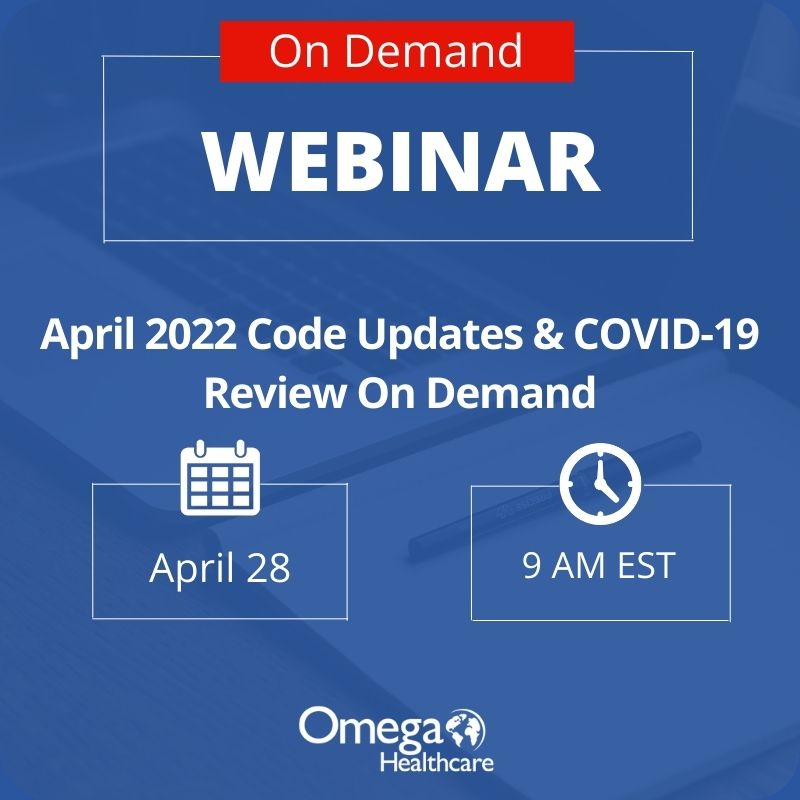 We will soon have an "on-demand" session available on our website after our live sessions conclude. This "on-demand" session will be available on April 28, 2022, from 9 AM EST.  Please register now.
We will now provide CEU's for "On Demand" sessions too. For all "On Demand" webinars, effective April 2022, you will qualify to receive CEUs upon clearing the online assessment after the webinar. You will also need to clock at least 45 viewing minutes.
Join our Omega Educators as we review the April 2022 ICD-10-CM & ICD-10-PCS Code Updates focusing on COVID-19 guidelines and codes.  The discussion will also highlight specifics on the COVID-19 Relief Act and CPT COVID-19 codes.  This webinar will have case scenarios to help facilitate your understanding of these guidelines and code updates.  The content will provide education that is valuable to coders and auditors in the facility and physician arena.
Our goal is to extend the opportunity for hospital and physician healthcare professionals to stay abreast of the new coding changes impacting the coding and billing arena.
This webinar will provide coding discussion specific to:
COVID-19 Coding Guidelines
COVID-19 ICD-10 Diagnosis/Procedure Updates
COVID-19 Vaccination status codes
COVID-19 PCS & CPT codes
ICD-10-PCS New Technology
Code Edit (MCE 20)
Webinar Speaker
Kitty Dugre, CCS, CDIP  –  Omega Healthcare Educator/Auditor
Jody Meece, RHIA, CCS –  Omega Healthcare Educator/Auditor