August On-Demand Coding Webinar: Highlights on AHA 2nd Q 2023 Coding Clinic & AMA CPT Assistants
Join our experts as we explore On-Demand Coding Webinar: Highlights on AHA 2nd Q 2023 Coding Clinic & AMA CPT Assistants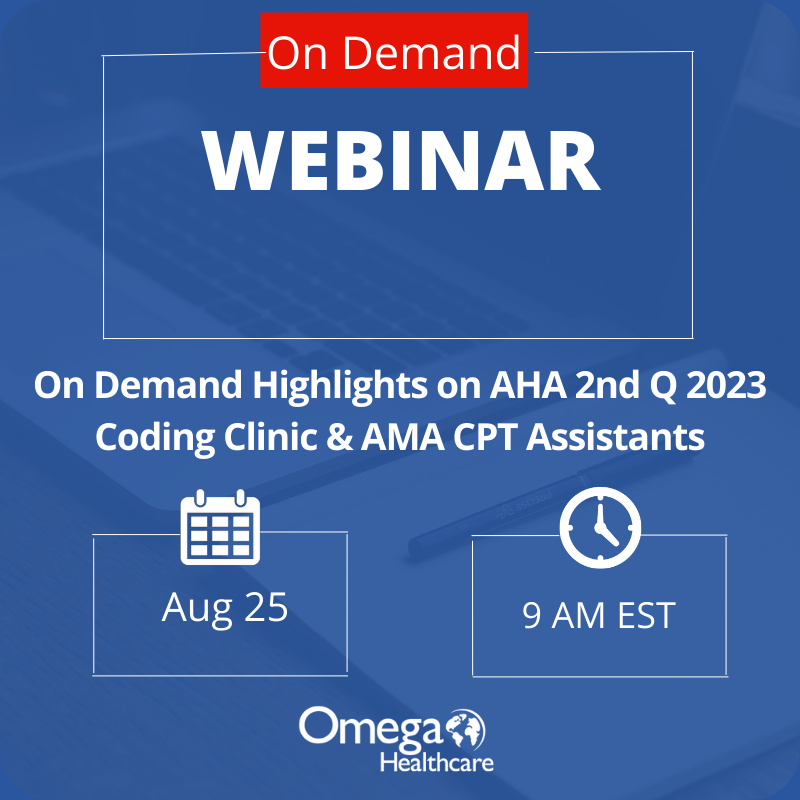 Join the Omega HealthCare Compliance Team as we review AHA 2nd Q 2023 Coding Clinic and AMA CPT Assistants. We will highlight several topics by looking at the clinical side of the disease processes and procedures. The discussion is designed to help facilitate understanding of specific coding clinic topics. The content will provide education that is valuable to coders and auditors in the facility and physician arena.
Our webinar goal is to assist coding healthcare professionals understand and interpret the coding tips provided in the 2nd Q 2023 AHA Coding Clinic and AMA CPT Assistant.
Highlighting topics such as:
Primary and Secondary Malignancy
Venous Thoracic Outlet Syndrome
Mixed Hyperlipidemia with Hypercholesterolemia
Chronic Erosive Duodenitis
Acute Cholecystitis/Cholelithiasis & Gallstone Pancreatitis
Lichenoid Keratosis
Sigmoid Sinus Dehiscence
Repair Sigmoid Sinus Dehiscence
Placement of Carillon Mitral Contour System
Norwood Procedure with Excision of Thymus
Remplissage of Subscapularis Tendon
Control of Bleeding with Hemospray
Preparation of Donor Organ Before Transplantation
Complete Cystectomy with Ureteroileal Conduit
E&M Inpatient Neonatal and Pediatric Critical Care
Physician Fabrication, Design, and Preparation of an Orbital Prosthesis
Malignant Prostate Tissue Ablation using Magnetic Field Induction
Total Disc Arthroplasty
Radiofrequency Destruction of Pulmonary Nerves
Laparoscopic Pyloroplasty with Placement of Omental Patch
Endoscopic Elastography of the Liver
This webinar is approved for 1 hour AAPC/AHIMA CEUs.
Webinar Speaker
Kitty Dugre, CCS, CDIP  –  Omega Healthcare Educator/Auditor

Jody Meece, RHIA, CCS –  Omega Healthcare Educator/Auditor
Please click here to download an important note on the webinar.