October On Demand Coding Webinar: FY2024 ICD-10-CM Coding Updates
Join our experts as we explore On-Demand Coding Webinar: FY2024 ICD-10-CM Coding Updates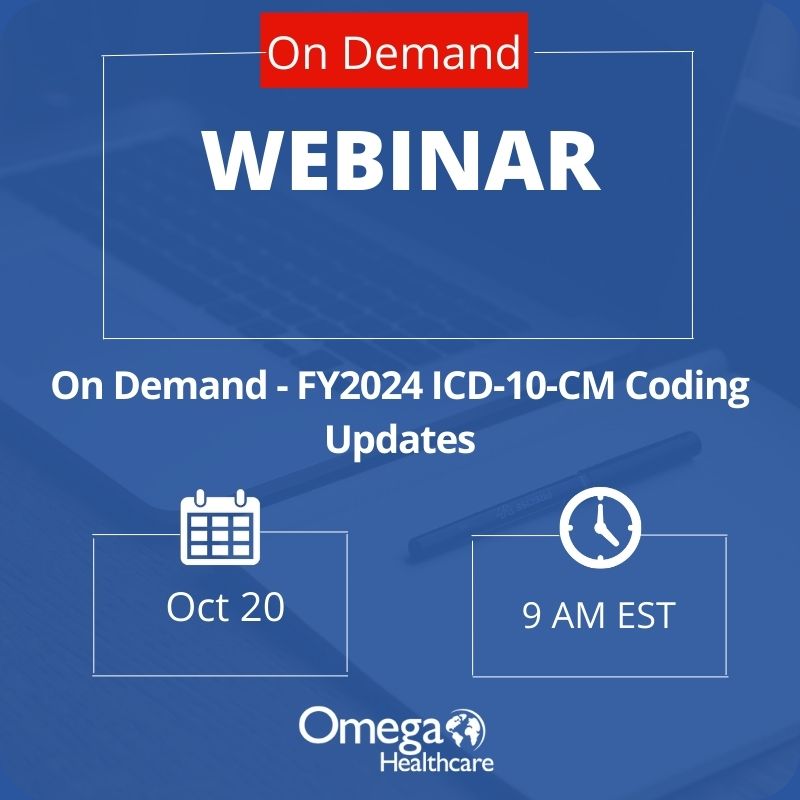 Join the Omega Healthcare Education team as we review the FY2024 ICD-10-CM Coding Updates. We will review the Chapter specific guidelines in conjunction with the new, revised, and deleted codes. The webinar will provide education on updated instructional notes, revisions to the Excludes 1 & 2 notes, code also notes, and sequencing notes. This content will provide education that is valuable to coders and auditors in both the facility and physician arena.
Our Webinar goal is to assist inpatient, outpatient and physician healthcare professionals understand and interpret coding guidelines for accurate diagnostic coding highlighting:
Chapter specific changes
Screening codes for COVID-19 post-pandemic
Gender Identity Disorders
Parkinson's Disease code expansion
Resistant Hypertension codes
Chronic Lung Allograft Dysfunction
Postpartum Acute Kidney Failure
Coma/NIHSS Stroke Scale
Abnormal and Inconclusive Finding on Breast Imaging
New Observation & Evaluation of Newborn codes
Reporting of Additional Diagnoses
Approved for 1-hour AAPC/AHIMA CEUs
Webinar Speaker
Kitty Dugre, CCS, CDIP  –  Omega Healthcare Educator/Auditor

Jody Meece, RHIA, CCS –  Omega Healthcare Educator/Auditor
Please click here to download an important note on the webinar.