On-Demand Webinar - Feb 2023 - AHA Coding Clinic 3rd and 4th Quarter 2022 Updates
Join our experts as we explore Feb 2023 - AHA Coding Clinic 3rd and 4th Quarter 2022 Updates On-Demand which was telecasted on 21st & 22nd Feb 2023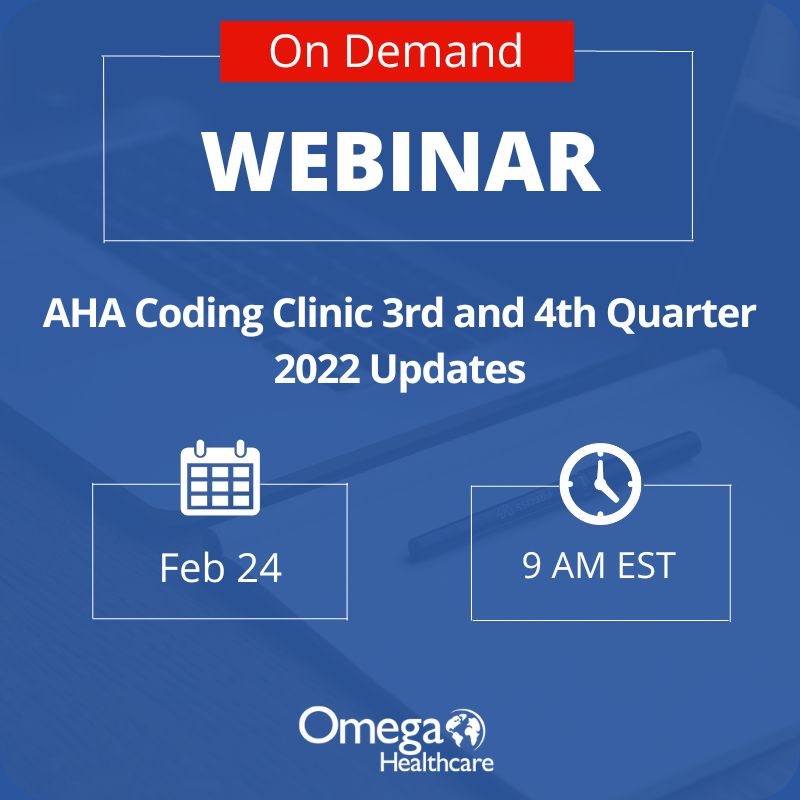 Join the Omega HealthCare Compliance Team as we review Coding Clinic 3rd and 4th Q2022. We will do a deep dive and highlight several topics by looking at the clinical side of the disease processes and procedures. The discussion is designed to help facilitate understanding of specific coding clinic topics. The content will provide education that is valuable to coders and auditors in the facility and physician arena.
Our webinar goal is to assist coding healthcare professionals understand and interpret the coding tips provided in the 3rd and 4th Q 2022 AHA Coding Clinics. Highlighting topics such as:
Monkeypox
Blood clots in Bronchus
Vasogenic Cerebral Edema
History of Lymphoma
Stages of Dementia & Behavioral/Physical Symptoms
Refractory Angina Pectoris
 Rib fractures during CPR
Endometriosis
Aortoiliac Aneurysm Repair
Aorta Stent Replacement
Bariatric Surgery
Complications of Intervertebral Cage device
Poisoning, Adverse Effect, Underdosing of Methamphetamines
Embolization of Prostatic Arteries
Bladder Augmentation
Short Stature
Webinar Speaker
Kitty Dugre, CCS, CDIP  –  Omega Healthcare Educator/Auditor

Jody Meece, RHIA, CCS –  Omega Healthcare Educator/Auditor
Please click here to download an important note on the webinar.