September On-Demand Coding Webinar: Deep Dive Into NCCI Edits and Global Surgery Guidelines
Join our experts as we explore On-Demand Coding Webinar: Deep Dive Into NCCI Edits and Global Surgery Guidelines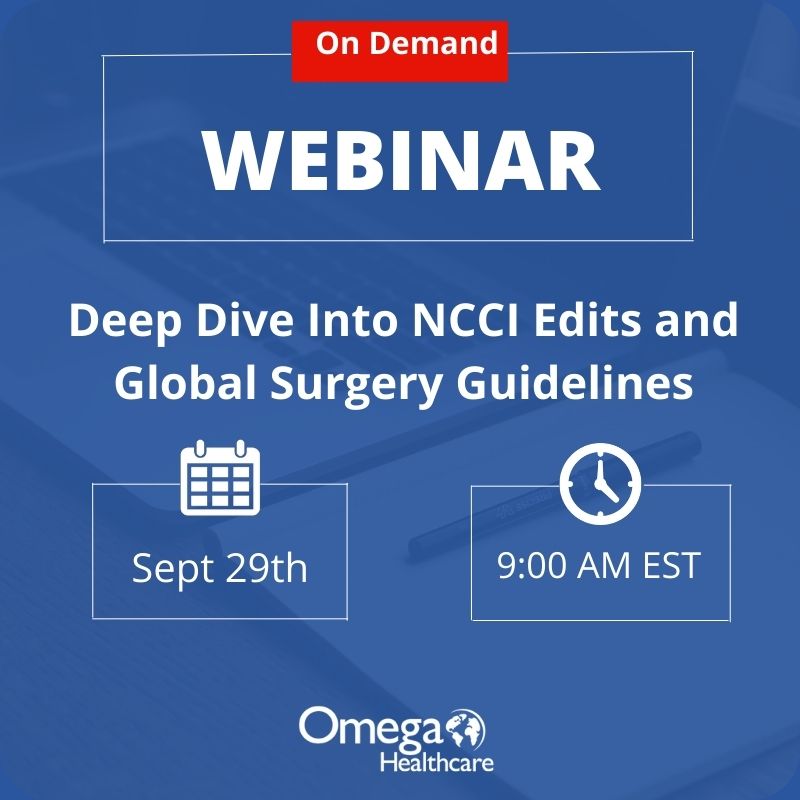 Join the Omega Healthcare Compliance Team as we take a Deep Dive into Edits and Global Surgery Guidelines.  We will focus on NCCI edits and how to assign the appropriate modifier for correct billing. We will also define and outline the different CPT modifiers and global surgery rules. The discussion will highlight case scenarios to help facilitate your understanding in resolving various edits as they apply to procedures in outpatient setting.  The content will provide education that is valuable to outpatient coders and auditors in the facility and physician arena.
Our webinar goal is to assist coding healthcare professionals understand and resolve NCCI edits highlighting topics such as:
Abbreviations/Definitions associated with NCCI edits
Billing of CPT codes with an NCCI edits
Specific Types of NCCI edits
NCCI Edits – General Trends
NCCI Modifiers
Global Surgery Guidelines
Approved for 1-hour AAPC/AHIMA CEUs
Webinar Speaker
Kitty Dugre, CCS, CDIP  –  Omega Healthcare Educator/Auditor

Sandy Pedersen, CPC, CEMC, CPMA –  Omega Healthcare Educator/Auditor
Please click here to download an important note on the webinar.