November Coding Webinar: 3rd Quarter 2023 Coding Clinic Updates and CPT Assistant Updates
Join our experts as we explore On-Demand Coding Webinar: 3rd Quarter 2023 Coding Clinic Updates and CPT Assistant Updates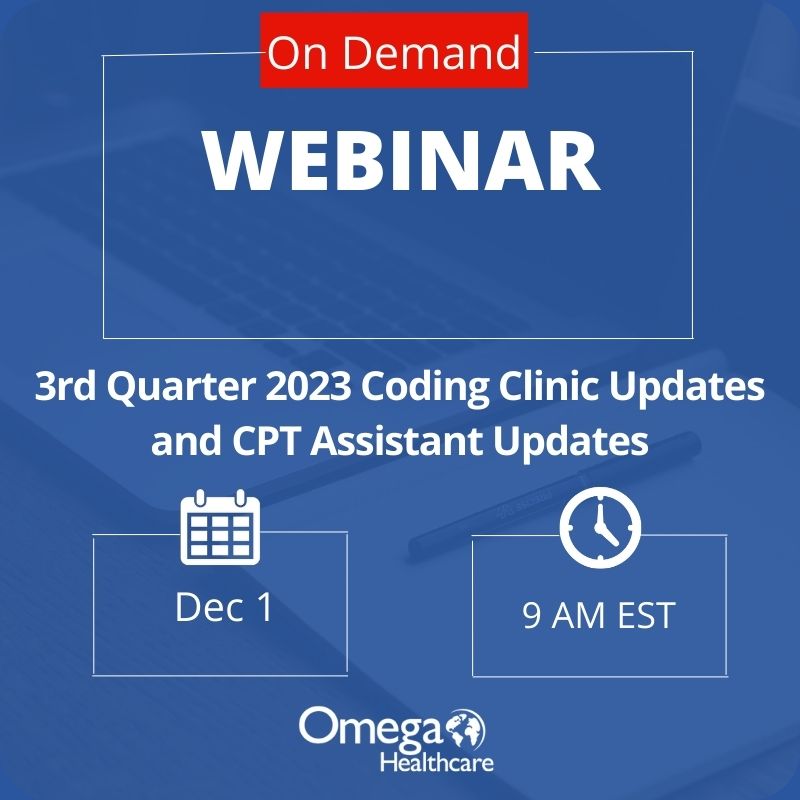 Join the Omega Healthcare Education team as we review the 3rd Quarter 2023 Coding Clinic and the September 2023 CPT Assistant. The discussion is designed to help facilitate understanding of various topics within the coding clinic and enable coders the ability to use these tips in day-to-day coding scenarios. The discussion goal will focus on accurate code assignments and better understanding of the disease process and procedure details. The content will provide education valuable to coders and auditors in both the facility and physician arena.
Our Webinar goal is to assist healthcare professionals understand and interpret the coding tips provided in the 3rd Q2023 Coding Clinic and September 2023 CPT Assistant. Highlighting topics such as:
Congenital Disorder of Glycosylation
Pancytopenia due to Radium-223 Treatment
Blast Injury due to Firearm Assault
Gastrojejunal disorders
Deep Vein Thrombosis following Ligation Procedure for Femoral Vein Injury
Acute on Chronic Right Heart Failure and Diastolic Heart Failure with Improved/Recovered
Ejection Fraction
Metastatic Gestational Trophoblastic Disease
Prescribed Cannabis
Subchorionic Hemorrhage Complicating Pregnancy
Control Postpartum Hemorrhage with Jada® System
Tracheal Agenesis with Tracheostomy Placement
Control of Bleeding with Hemostatic Clip and Hemospray®
Neurally-Adjusted Ventilatory Assistance
Aspiration and Injection of Bone Marrow at Fracture Site
Thrombectomy of HeRO® Graft
Deployment of Tack Endovascular System® for Vessel Dissection
Fenestration of Aortic Dissection Flap
Approved for 1-hour AAPC/AHIMA CEUs
Webinar Speaker
Kitty Dugre, CCS, CDIP  –  Omega Healthcare Educator/Auditor

Jody Meece, RHIA, CCS –  Omega Healthcare Educator/Auditor
Please click here to download an important note on the webinar.