On Demand Webinar - April 1st 2023 ICD-10-CM and PCS Code Updates
Join our experts as we explore 'April 1st 2023 ICD-10-CM and PCS Code Updates' in our demand coding webinar.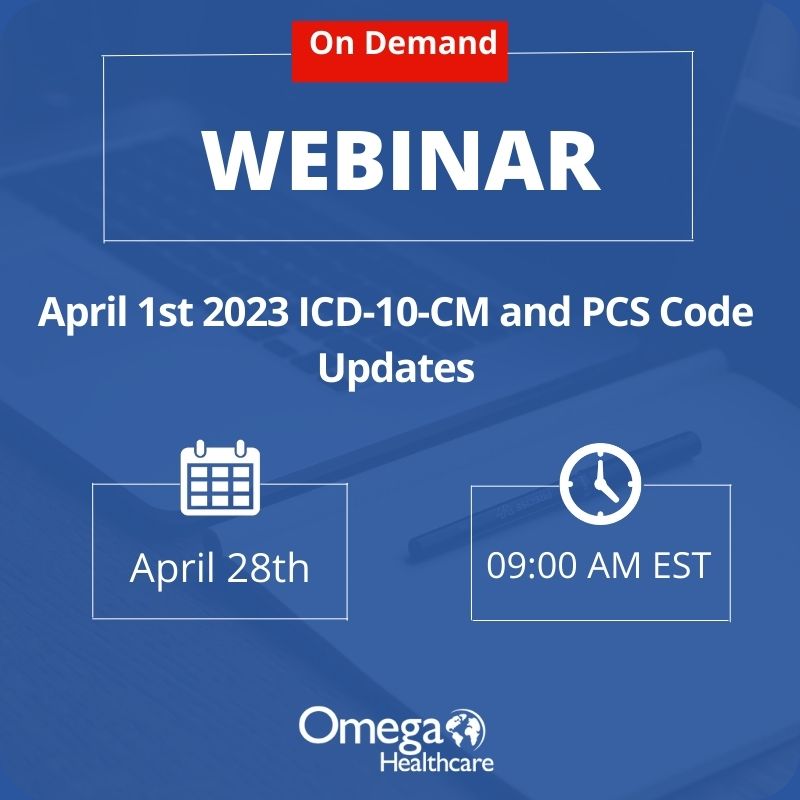 Join our Omega Educators as we review the April 2023 ICD-10-CM & ICD-10-PCS Code Updates focusing on changes to coding guidelines and code revisions.  This webinar will have case scenarios to help facilitate your understanding of these guidelines and code updates.  The content will provide education that is valuable to coders and auditors in the facility and physician arena.
Our goal is to extend the opportunity for hospital and physician healthcare professionals to stay abreast of the new coding changes impacting the coding and billing arena.
This webinar will provide coding discussion specific to:
Official Coding Guideline Update
New ICD10-CM Diagnosis Codes:

Chapter 19 –  Injury, Poisoning, and certain other consequences of external causes
Chapter 20 – External Causes of Morbidity
Chapter 21 – Factors Influencing health status and contact with health services

ICD10-PCS Procedure Codes:

Medical and Surgical Section
Administration Section
New Technology Section
Public Health Emergency for COVID-19 Ending
Webinar Speaker
Kitty Dugre, CCS, CDIP  –  Omega Healthcare Educator/Auditor
Jody Meece, RHIA, CCS –  Omega Healthcare Educator/Auditor
Please click here to download an important note on the webinar.