Background:
Cancer Registry data is vital to all hospitals. The data needs to be understood and this poster will help to demystify the RCRS Breast measure: Breast Conserving Surgery Radiation Treatment (BCSRT). In order to use the data, you need to understand the collection process, measures you collect, understand inclusion/exclusion criteria, and educate your program on data collected.
CoC Standard & Measure Criteria:
BCSRT measure falls under Standard 7.1 and is required to be at 90% compliance
Radiation therapy is administered within 1 year (365 days) of diagnosis for women under age 70 receiving breast conserving surgery for breast cancer
If any of the below criteria are not met, the patient is excluded
Diagnosis year: Any year
Prim site: C50.0-C50.9
Sex: Female
Age: 18-69
Sequence #: 00, 01
Histology: Multiple (see actual measure)
Clin/Path stage ≠ 0, 4 or M ≠ 1
Class of case: 10-22
Surgery codes: 20-24
Vital status: Alive
Days between dx & last contact: >365
XRT tx: Rx tx mod= 20-32, 40-43, 50-55, 60-62, 98 OR Phase I (PI) Rx tx mod 01-16 OR PI Rx tx mod 99 & PI Rx prim tx vol= 40, 41 & # Days between dx & XRT is ≤ 365
Challenges:
Physicians and Cancer Committee members do not always understand the RCRS measures
• Every RCRS measure is different with unique inclusion/exclusion criteria
• Cancer Registry Directors, Managers, Coordinators, Leads, typically are
the only members to understand the data, but in some cases, they may not understand the data, how it is collected and how to share the data
to help others understand the data they are collecting
Tips:
Understand, educate and share knowledge on the criteria: What is included, excluded and why some meet the measure and others do not?
• Use and share the tools provided by RCRS with staff and Cancer Committee
• CTR's collecting the data should be top priority!
• Place education material in a folder so new staff may be privileged to the information
• Ask questions to RCRS staff. Do not be afraid to ask, they are here to help.
• Utilize the Cancer Forum to find answers and ask questions
• Have your Cancer Liaison Physician more involved in understanding the data collection – give examples: Explain the selection criteria in detail
• Create a subcommittee to take deeper dives in the data
Conclusions:
Each RCRS measure is different. Understand the inclusion/ exclusion criteria for evaluated measure. Educating CTR's on properly collecting the data and understanding the measures, will in return help with
educating the physicians. Understanding that most patients will be excluded from the measures because there are more exclusion criteria than inclusion criteria. Most programs will start with a larger patient
cohort but understanding that one criteria will exclude your patient, it doesn't take long for your cohort to go from 100 patients to 10.
Examples of a Patient Cohort: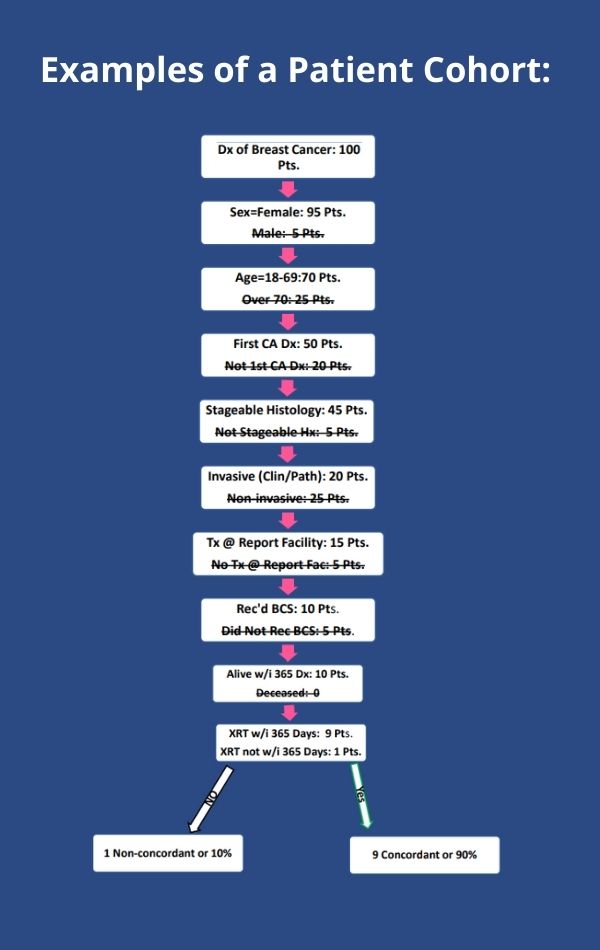 References: CoC Quality of Care Measures Required for 2022 Site Visit (facs.org) & Facility Quality Improvement Packets (facs.org)