Vijayashree Natarajan, SVP of Technology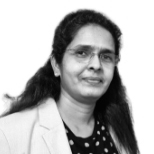 Vijayashree Natarajan
Vijayashree Natarajan has about 22 years of experience in the Technology space with a career built primarily in the Healthcare, Life Sciences, Banking, Financial, and Insurance domains. She heads the Technology team at Omega, driving digital transformation for Omega's clients and accelerating the adoption of technology and automation within the organization.
She has worked with several global leaders in the IT space including Cognizant Technology Solutions and BNY Mellon (formerly Inautix Technologies). Vijayashree has headed the automation, analytics, digital engineering using mobile technologies and cloud divisions in her previous roles, achieving significant milestones for her clients.
With a B-Tech degree in Electronics from Madras Institute of Technology, Chennai and an Executive Program Certification in Artificial Intelligence: Implications for Business strategy from Massachusetts Institute of Technology, Sloan School of Management, Cambridge, Vijayashree' s expertise includes – defining strategic Vision and Digital Transformation using AI technologies, Thought leadership and consulting expertise in automation and analytics, Product Management, Product Engineering using Agile – Guilds, Pod Based delivery and Business process Re-engineering and Optimization using Lean methodology. While being passionate about technology, Vijayashree identifies herself to be a people-friendly leader who loves to collaborate and succeed along with her team.