May 2022 – Clinical Applications of Office and Outpatient EM Coding - L1
Join our experts as we explore May 2022 - Clinical Applications of Office and Outpatient EM Coding - L1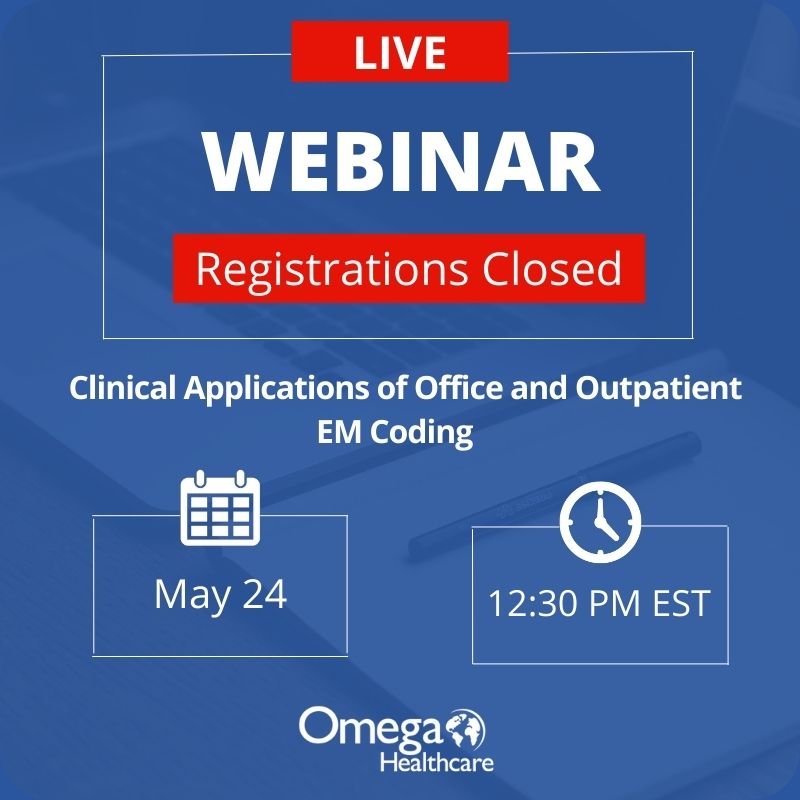 We are sorry, the registrations for this event is running full. We request you to please register for the same live event on the 25th of May.
Join our Omega Educators as we revisit physician E/M coding with recent 2022 Final rules and future changes impacting Inpatient E/M coding. The discussion will also provide details specific on when/how to use medical decision making to determine E/M levels, Split/Shared tips, and elements included when determining critical care codes. This webinar will have several case scenarios to help facilitate your understanding of these guidelines and code updates. The content will provide education that is valuable to coders and auditors in the physician arena.
Webinar goal is to provide physician healthcare professionals current information on coding guidelines specific to E/M coding in the office and hospital setting.
This webinar will provide coding discussion specific to:
Office & Outpatient Evaluation and Management Guidelines
Criteria specific to Medical Decision Making
Clinical Examples for Office E/M
2022 Final Rule – Critical Care
2022 Final Rule – Primary Care Exceptions
Overview of 2023 Facility E/M changes
Webinar Speaker
Kitty Dugre, CCS, CDIP  –  Omega Healthcare Educator/Auditor
Sandra Pedersen, CPC, CEMC, CPMA –  Omega Healthcare Educator/Auditor
Please click here to download an important note on the webinar.